Spider-Man Roll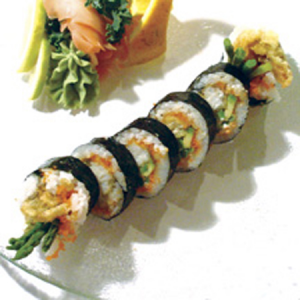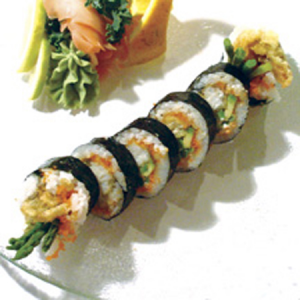 Spider-Man Roll
Ingredients
1-2 soft-shell crabs
1 avocado
1 cucumber
Crab salad mix
Seaweed
Sushi rice
Sweet teriyaki sauce
Preparation-
Clean and cut soft-shell crab in half horizontally from the longest part of the crab. Cover in tempura batter and deep fry.  Place on paper towel covered dish to cool and let oil drip off.  Cut cucumber into long thin slices.  Use crab meat(real or imitation) to make crab salad by adding mayonnaise and mixing. Cook rice and while cooling in separate pan add sushi vinegar. Let cool completely to room temp.
Making-
Lay seaweed down and cover evenly with sushi rice.  Add deep fried crab, crab salad, cucumber and avocado to inside.  Roll all ingredients inside seaweed.  Cut into 8 pieces and add sauce on top.  Plate and its ready to serve!!!
Look for instructional videos coming soon!!
Next roll:  Bane roll!!